Job Posting: Practice Coordinator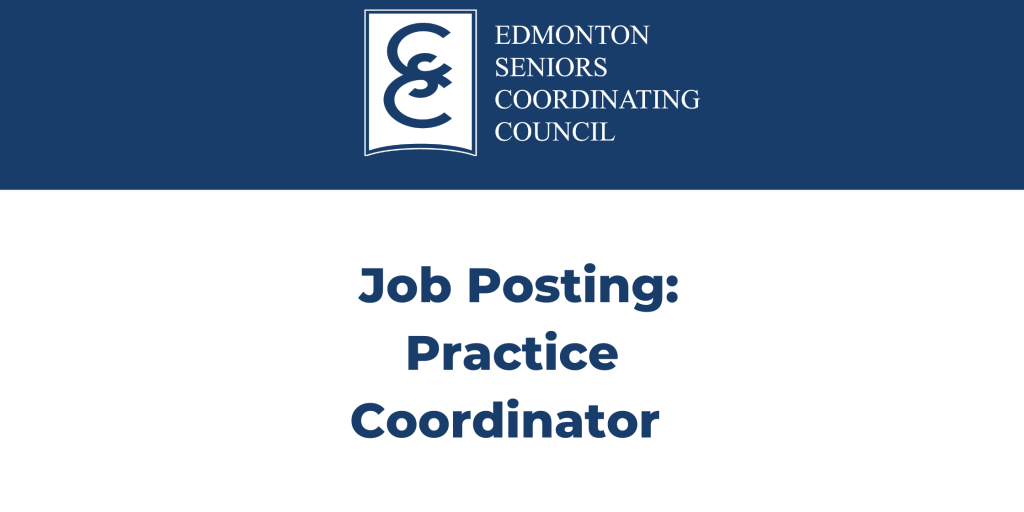 Coordinated Seniors Outreach in Edmonton
A collaborative approach to service delivery
Edmonton Seniors Coordinating Council (ESCC) is the backbone organization, supporting a collaborative approach to deliver outreach services for older adults (55+) in Edmonton. Seniors Outreach is a service delivered by outreach workers and support workers hosted at organizations throughout Edmonton that help connect seniors across our city to the supports they need to thrive. The collaborative approach was designed to reach more Edmontonians, particularly those with diverse experiences and barriers that limit their access to service.
We will also be working to incorporate the Seniors Home Supports Program into the new model. This program connects seniors with three referrals to home services (ex. snow shovelling, yard maintenance, home maintenance, personal care, etc.), so that seniors can find screened businesses to help them stay at home.
As a backbone, ESCC will provide administrative support, partnership development, strategic implementation, and shared resource management to the collaborative which begins work on July 1, 2023.
Principles underpinning the model are to provide trauma-informed, person- centered, culturally appropriate, and accessible services.
We are looking for a Practice Coordinator that can help support the operational transition and consistent practices. The role would focus on building common training, policies, procedures, and workflow for the program amongst the partner organizations, as well as building a community of practice for workers in the program. This role would report to the Coordinated Seniors Outreach Program Manager.
POSITION: Practice Coordinator
PROGRAM: Coordinated Seniors Outreach
RESPONSIBILITIES: Service Design and Delivery
Works with supervisors at partner organizations, outreach workers, and support workers across agencies, with the support of the Program Manager and approval of the Governance Committee to develop:

common policies and procedures across the program
a shared system of intake, assessment and follow ups
bring consensus on these standard practices, and regular contact with the workers to provide support with navigating the change
Creating an updated program manual and resource guide
Working with the database contractor and 211 data to support development of a referral database that is accessible by partner organizations

Training and implementing this tool across the agencies
Maintenance of this tool to ensure up to date
Supporting the development of a system for triaging seniors into the various agencies based on proximity of workers to clients, worker availability, cultural competency, language/skill Incorporate a technological solution where possible, working with the data system contractor.
Working with 211 to build their referral pathways for the seniors' sector. Maintaining an active relationship and looking for new avenues where 211 can support the service.
Monitor and review program service delivery relating to application of program policies and professional standards.

Orient and train direct service providers as
Provide proactive guidance, direction, and support to partner agency staff, in consultation with the agency's supervisor(s).
Support change management to new procedures across the

Work with agencies and database contractor to build an issue/barrier tracking system which can inform governance committee and community of practice conversations on how to address issues.
Regularly visit partner organizations to learn from teams about the program and ways to improve
Community of Practice
Convene the community of practice with the support of partner supervisors

Provide team building and skill improvement activities to help foster a culture of collaboration and teamwork across the program.
Create opportunities for case conferencing and support for
Build in conversations about equity, diversity, and inclusion as a regular practice and approach in this Provide opportunities for additional coaching or mentorship as required.
Hold presentations that provide information to outreach and support workers of relevant seniors' services for referrals and relationship
Create a space for growth and development within the program where participants can focus on their development as an outreach worker or support worker.
Training and Reflective Practice
Identify and develop a method of teaching for the program based on the goals and core values of the
Work with partner agencies to identify core competencies for outreach and support workers.
o Meet with workers to determine if there needs to be adjustment to the core competencies and understand their learning and development needs.
Identify existing training programs across the organization partners that would build on the competencies identified.
Create a training pathway that would allow workers to expand their capacity and work together to build their competencies in the identified areas.
Work with the Program Manager to look for new funding opportunities to support this learning and development
Program Development and Evaluation
Contribute to developmental evaluation framework to revise and build the program.
Complete administrative responsibilities; and support data
Provide feedback to Program Manager for program
QUALIFICATIONS:
Master's degree in social work preferred, or BSW with relevant skills and
experience.
At least three years experience in a social work related role with program development experience.
Knowledge and experience with person-centred and trauma informed
SKILLS AND EXPERIENCE:
Strong understanding of Equity, Diversity, and Inclusion practices and values and how to embed these into social work
Strong interpersonal skills to help establish good working relationships with
Innovative, creative thinker
Ability to navigate courageous conversations
Proficient oral and written communication skills
Excellent organizational skills and attention to detail
To apply please provide your resume and cover letter in a PDF format by email to sheila@seniorscouncil.net no later than June 7th, 2023.
This is a full-time position (35 hours per week) for project term to end of 2025. The salary range is $65-$70K annually.