Stakeholder Spotlight: Caregiver-Centered Care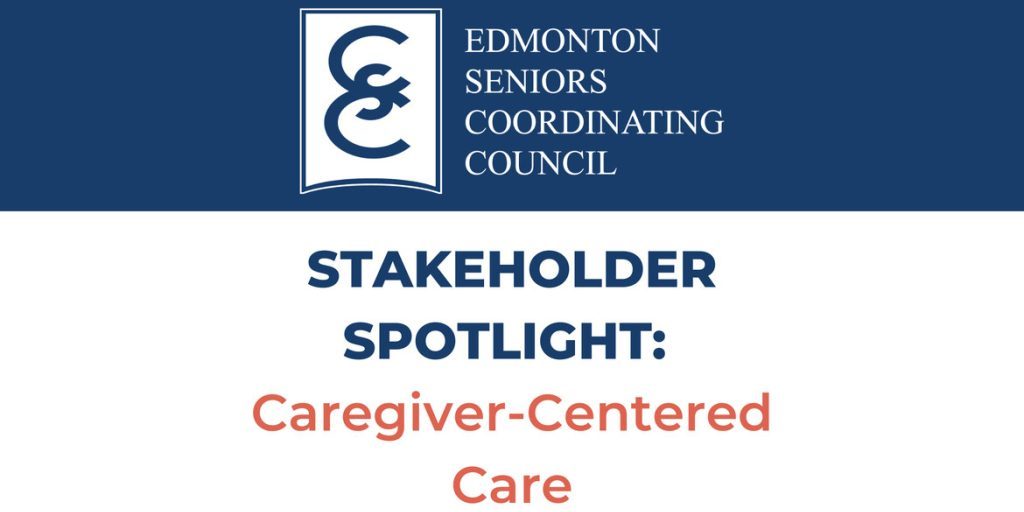 We sat down with Dr. Jasneet Parmar to talk about the work of the Caregiver-Centered Care Initiative she has undertaken in Edmonton and Canada. Dr. Parmar is a Champion Advocate for older adults in our city, their families, and of family caregivers of all ages to all ages.
According to Dr. Parmar, it is important to define the concept and role of caregiving, which is that it emerges in the context of illness and disabilities. The support from family caregivers can be manifested as physical, mental, social, financial, advocacy or acombination of any of them.
"Caregiving is a responsibility, usually nonpaid, that is assumed by an individual, related as a family member, friend or close relationship, and is done out of love, reciprocity, duty…
…The commitment that I see between a caregiver and the person that is receiving their care is transformational. I know your stakeholders see this every day in their work and interactions with older adults. The experience of this commitment to care opened my eyes in my early years as a health practitioner, to see that more was needed from me and it changed me, from being primarily focused on serving sick and frail patients, into recognizing that a family member taking care of those patients is also someone that needs recognition and considerable support".
Dr. Parmar, 2023.
"Family caregivers are the shadow workforce of our society, and the backbone of our healthcare system. We need family caregivers to be and feel supported by healthcare providers."
Dr. Jasneet Parmar & Dr. Sharon Anderson
Dr. Parmar is the lead investigator of the Caregiver-Centered Care Education Initiative which is primarily designed for healthcare and community-based providers to recognize, partner with and support family caregivers. The Caregiver-Centered Care Initiative recognizes that family caregiving as a social determinant of health by acknowledging who they are, why, and how we need to support them. This is something that the Government of the UK has already done.
The Caregiver Survey, on the impact of the pandemic on Alberta's caregivers, results were published in October of 2021 by Dr. Parmar's research group. Results show that 35% of the caregivers interviewed were older adults and according to Canada's population growing exponentially into seniors, the number of older adult caregivers in Alberta will continue to grow.
"We are looking at 93% of seniors living in the community, and for those who are receiving care, 90% of the care is being provided by family caregivers; usually a spouse or partner".
Dr. Parmar
The Caregiver-Centered Care Education Program is the first co-designed initiative of its kind in Canada that developed as an education oriented initially to healthcare providers. The program which has transferable skills, is now open to social practitioners and the public and involves recognizing the caregivers and supporting them in their caregiving role, partnering with them, assessing their needs from their perspective, and helping them access resources and navigate the systems of care.
This education consists of three different levels of training (Foundational, Advanced and Champion) and a course (Covid Module) focusing on care during the pandemic. The Caregiver-Centered Care Education Program has received national recognition. The Canadian Fund for Healthcare Improvement (CFHI) Essential Together has recommended it as part of their staff learning bundles. Find more information about the training.
The initiative was developed 10 years ago through Dr. Parmar's research work at the University of Alberta. It became clear that there was a need for healthcare providers to be trained to support family caregivers. In 2019, they developed the core competencies that healthcare providers require to partner with family caregivers to sustain care and to support health and well-being.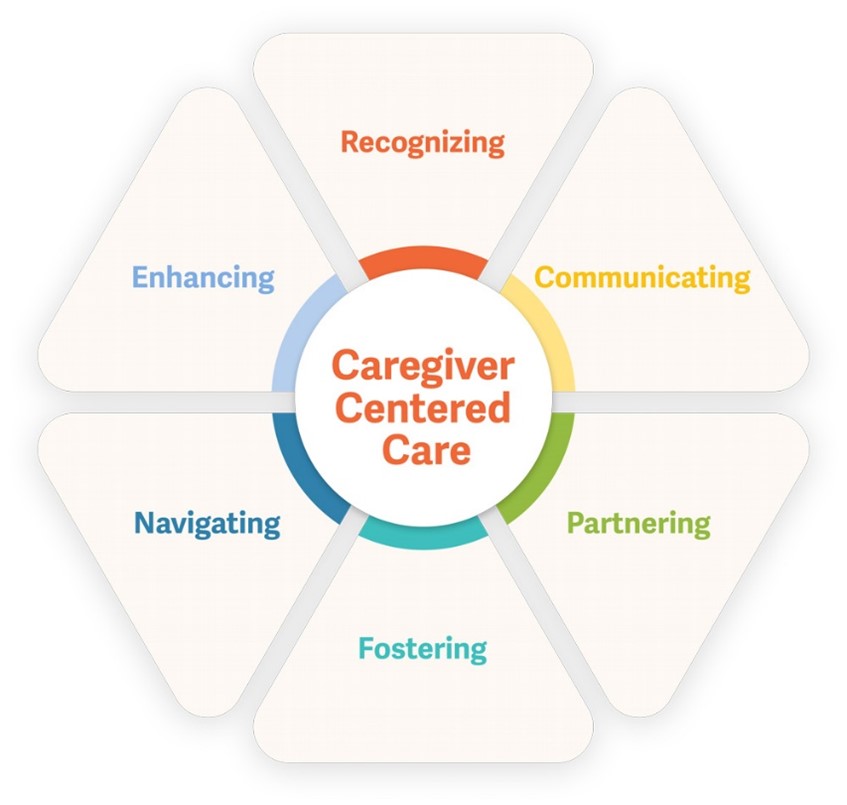 "We need to put together the pieces of support for caregivers; without adequate support from the systems of care, caregivers will continue to be stretched to the point of breaking and will not be able to sustain care. Our society relies heavily on them, and healthcare system cannot survive without their support. This should be recognized as a public health concern"- Dr. Parmar
With the involvement of the Faculty of Medicine and Dentistry at the University of Alberta, partners, and over 100 stakeholders, Dr Parmar's group co-designed the education modules to train the health workforce based on the six core competencies (see image above, and read about the competency framework here). Since 2020, they have been tested the foundational education in all healthcare settings (acute care, primary care, home care, supportive living, long-term care, and with all healthcare providers and trainees).
Today they are calling on social care practitioners and social service organizations to participate by taking this education and evaluating the newly releasedAdvanced Caregiver Centered Care Education. The modules are available for free online, and a Continuing Competency Certificate is available upon completion.
If you or your organization are interested in this opportunity, please contact Dr. Jasneet Parmar at jasneet.parmar@ahs.ca or Dr. Shannon Anderson at sdanders@ualberta.ca, phone: 1-780-953-5541
What does it mean to pursue a Certificate in Caregiver-Centered Care? And how can a social service organization benefit from the training?
The training is free and can equip healthcare and/or social care providers with nationally recognized competencies to engage and communicate effectively with family caregivers as partners in care. This is accomplished through recognizing the caregivers' own needs and fostering support by helping them navigate services and supportsthat they need as caregivers and overcome barriers.
Dr. Parmar recognizes that many community-based social services organizations are already doing this work with caregivers, however she states that by going through this education, organizations can work to create a unified language and practice among those who are directly working with family caregivers. Having a common practice will open access and awareness to all the benefits available to them as core members of a health and wellness care teams.
"That is the power of a network and partnership: we can work together torecognize family caregivers as members and contributors to a care team who in turn also need care and support", Dr. Parmar.
Dr. Janet Fast, Economist, Professor and Co-Director, Research on Aging, Policies and Practice, at the University of Alberta states: formal care is supplemental to what family caregivers are providing to our economy (they are the backbone that is sustaining our continuing care system).
"Unpaid family caregivers in Canada spent an extraordinary 5.7 billion hours annually supporting others. It would take 2.8 million full-time paid care workers to do this work instead. Multiply that by the national median hourly wage of $17 for home support workers and you get a staggering $97.1 billion as the estimated cost to replace Canadian families' care work".
Speaking with Dr. Parmar about the collaboration between seniors and the Caregiver-Centered Care Education Initiative
ESCC: One of theEdmonton Seniors Coordinating Council's call-to-action goals is to create awareness in Edmonton and surrounding areas about the collaborative work our sector is doing with providing Edmonton and those living in surrounding areas with the resources needed to age healthier and be supported in their homes if they are able.
We know many older adults are aging well, and others who need care receive it from families with additional supports from Homecare and Social Services. We know from statistics that older adult Canadian caregivers are helping to sustain the public continuing care systems and are major contributors to our government's financial and social stability. As Dr. Fast stays, caregivers are providing $97.1 billion of unpaid labor per year.
As we consider how much of your work is supporting our sector by advocating for those older adults who are family caregivers, and as the ESCC prepares to advocate for the Edmontonian community-based seniors serving network in the upcoming election, please tell our readers how you see our sector advocacy campaign supporting the advocacy efforts of the Caregiver-Centered Care Initiative?
Dr Parmar: "I really believe it's about shining the light on and for family caregivers. Family caregiving has become a social determinant of health; the length and load of caregiving, if not supported by our systems, can negatively affect the caregivers' health and wellbeing, work, and finances.
Imagine what would happen to our society if family caregivers were not able to care because of lack of support. More urgently, imagine what would happen to our healthcare system? We need them! They don't ask much from us. Research shows that by acknowledging them, being respectful in our communication and partnering with them in care, increases their resilience, wellness and of those around them. We need to support that husband who is an older adult, maybe aging well, who works as a volunteer in his community league and who is taking care of his wife who has dementia, and mobility issues".
ESCC: What are the key messages that our Edmonton Community-Based Senior Serving sector campaign should include that can highlight the importance of caregivers' needs?
Dr. Parmar: "I believe it's about collaboration. We need the healthcare system to integrate and collaborate with the social care system and vice-versa.
Put yourself in the shoes of a man who provides 24/7 care for his wife. He tells me 'Dr. Parmar I cannot find a reason to not take care of her, I love her, and I want to do it; but if I am honest, I feel overwhelmed because I don't understand the system… the websites are too complicated. I kind of know how to ask you about her needs, but I don't know how to ask about my own'.
What could his needs be? Do we ask ourselves that question as healthcare providers or as social care practitioners? If we don't, we can make things worse by prescribing services that may result in him feeling less supported and more isolated. His wife may need a wheelchair and a ramp, and he may need home supports. He may not have transportation. If he does not know how to navigate the system and access resources, he will take on more and more care and become increasingly burdened and isolated. His health can get affected. Ultimately, he cannot sustain care.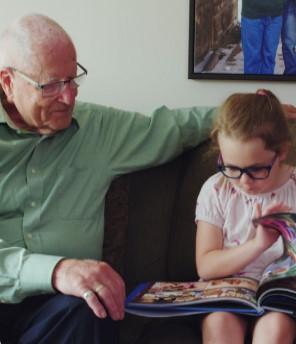 The key message is about advocating for the integration of the systems at the point of care. Together, as a three-chord (caregivers, health care, and social care) system, we can truly help our family caregivers and in turn support older adults. We are fortunate in Ab that we have resources and I believe we are ready to do this."
For more information on how to partner with the Caregiver-Centered Care Education Initiative please contact Dr. Parmar at jasneet.parmar@ahs.ca or Glenda Tarnowski, MALH, CHE, CLS, Growth and Innovation Lead of the Caregiver-Centered Care at: tarnows1@ualberta.ca
* Caregiver-Centered Care Education Initiative housed at University of Alberta, currently partners with University of Calgary, University of Manitoba, Norquest College, Alberta Health Services (AHS), Island Health, Alzheimer Society of Alberta and Northwest Territories, McNally Project for Paramedicine Research, Primary Care Network, Bow Valley College, Caregivers of Alberta, College of Licensed Practical Nurses, and McMaster University