Stakeholder Spotlight: Elmwood Seniors for Seniors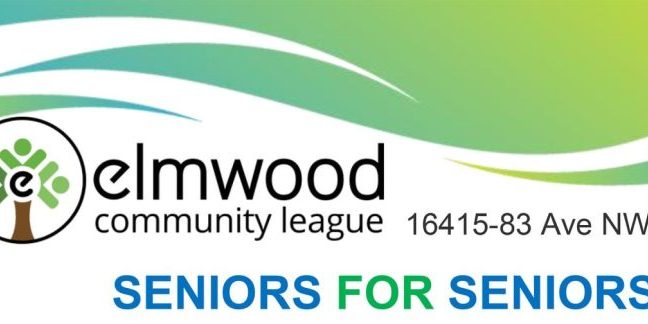 Elmwood Seniors for Seniors is a relative newcomer to Edmonton's seniors sector. This volunteer-based community-run program began in 2019 as informal meet-ups at a local park. It picked up steam throughout the pandemic and is now offering regular programming at its home within the Elmwood Community League building. The evolution has been one of grassroots support and community connections.

"We were a group of people 55+ that was meeting in the park in spring, summer, and fall and we didn't really know what we were going to do because winter was coming," explains one of the group's original members, Gail McDonald. "Someone suggested Elmwood Community League, and they opened their doors to us."

That proved to be a game changer for the group, especially this year as public health restrictions are changing.

"We just moved into Elmwood and all of a sudden, things started to happen," says McDonald. "We had all these activities, and people started to come. I expected nothing more than our coffee socials. It was remarkable."

Those coffee get-togethers continue every Tuesday primarily as planning sessions. A Wednesday morning coffee was added in September for those wishing to gather and socialize. There is a growing list of other social opportunities: from yoga and dance classes to music lessons to writing sessions, and more on the horizon.
Fees for activities and social gatherings are kept low – a cost recovery model that is meant to offset expenses like instructor fees and refreshments. McDonald is among those leading the planning, alongside fellow volunteer Myrna Holownia and many other enthusiastic, like-minded volunteers. 
 
"It's basically seniors getting together and looking for ideas and ways that we can make people's lives better through classes or social activities of any kind," remarks Holownia. "We try to encourage anyone to come and just let us know what they think or what they'd like to see."
  
"Elmwood Seniors for Seniors has become a challenging and rewarding adventure trying to fulfill a need for people 55 plus," says McDonald. There is certainly an appetite for all sorts of activities and programming possibilities. Paid certified instructors who enjoy working with seniors are being sought for a wide range of classes (for more information, contact elmwoodseniorsforseniors@gmail.com). 
  
Seniors for Seniors is looking to welcome more participants. While its name may seem to indicate it serves only older adults from the Elmwood area (in west Edmonton), McDonald and Holownia stress it is open to anyone 55+ from any areas of the city. 
  
"You're more than welcome here," encourages McDonald. "Chat a little, laugh some, learn about Seniors for Seniors, share a memory, join in a class, and perhaps meet a new friend." 

Connect with Elmwood Seniors for Seniors
Email: elmwoodseniorsforseniors@gmail.com
Facebook: /Elmwood-Seniors-For-Seniors
Located at:
Elmwood Community League
16415-83 Avenue
Edmonton, AB T5R 3V8